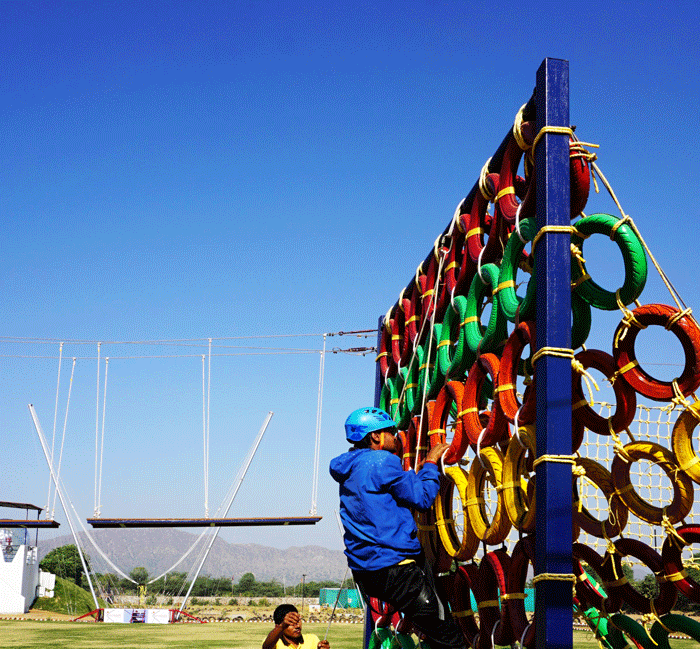 About Us
Xcapade Adventures is a community of adventurers and professionals, completely dedicated to meeting the needs of nature buffs and adventure sports lovers. We, at Xcapade Adventures Pvt Ltd., acknowledge the increasing number of adventure seekers and have thus, put together an experience suitable for all age groups offered at the most affordable prices.

Spread across 7 acres of vast land, the adventure park is situated in Pushkar, Rajasthan and is the first integrated Adventure Sports Park offering activities such as Rock Climbing, Zorbing, Quad Biking, Obstacle Course, Bungee Jump, Parasailing and much more.
Our team consists of highly accomplished and experienced adventurers who have done anything that one could possibly imagine. We ensure that world-class standards are followed in our daily operations and activities, so while you're Xcapade,
we guarantee your full safety. All our equipment has been sourced from the best of suppliers in the industry and most of our specialized equipment has been imported from Petzl(USA).

Our promoters bring a large amount of experience from diverse fields of travel and tourism, adventure sports, management, and logistics couple with unbridled enthusiasm into this venture. For our guests visiting the major cities of Ajmer, Kishangarh, and Jaipur, the location is a perfect getaway for a day visit. Guests visiting us from other places can look forward to exciting packages with a simple booking method.